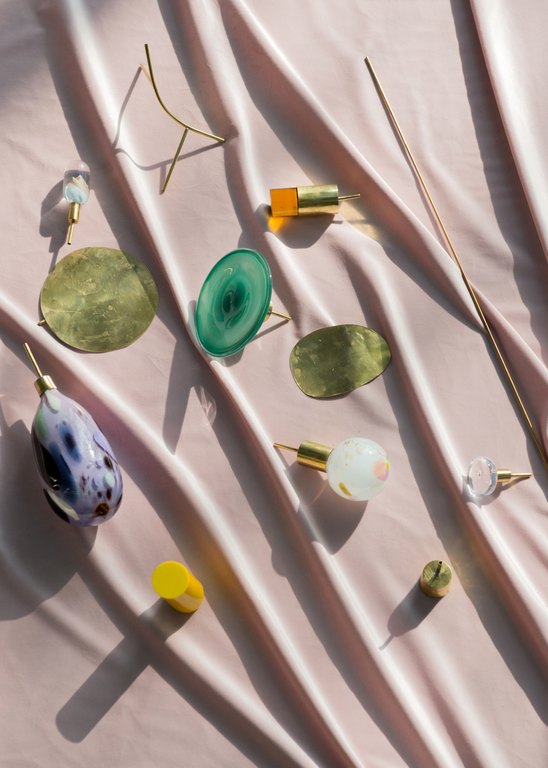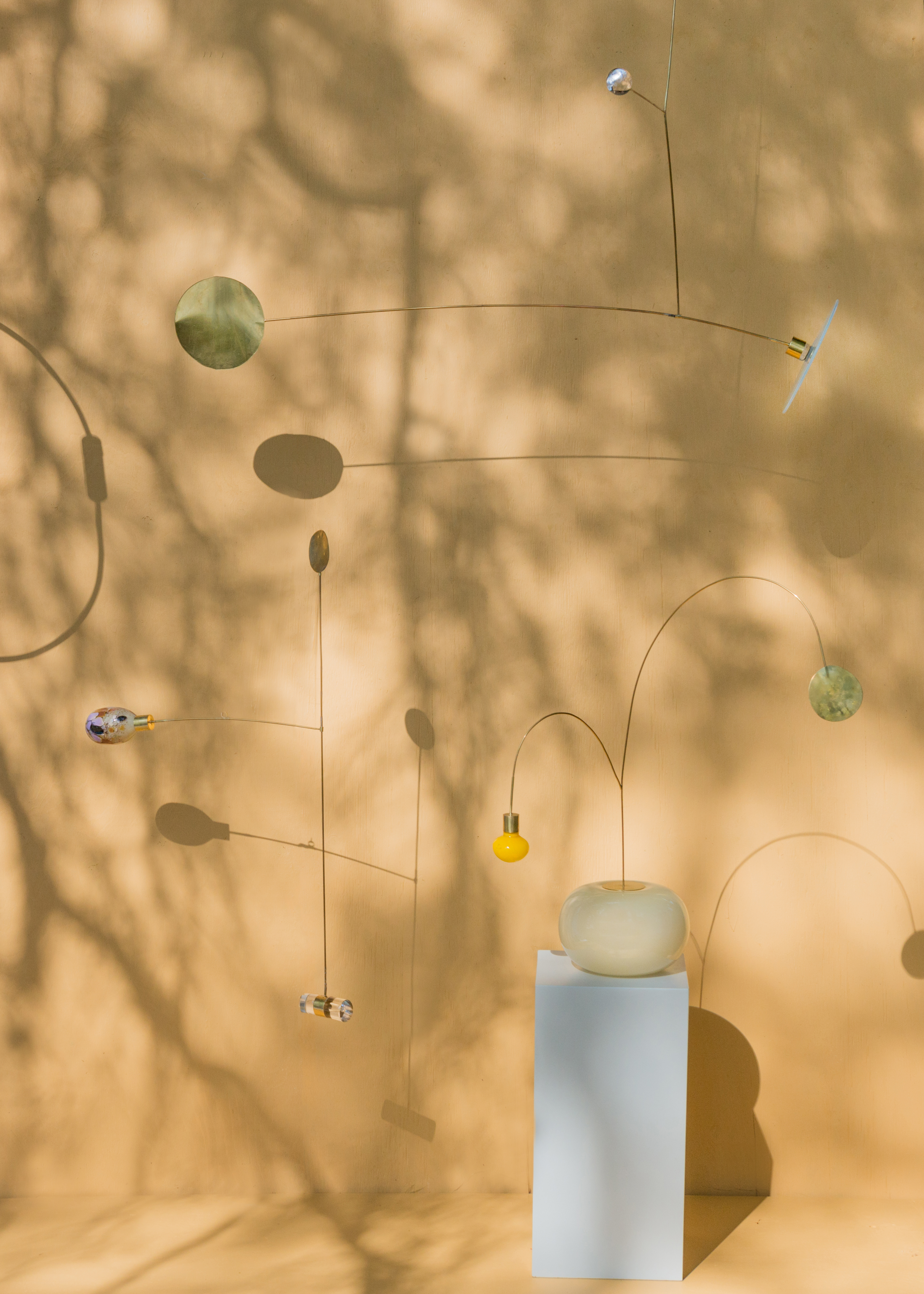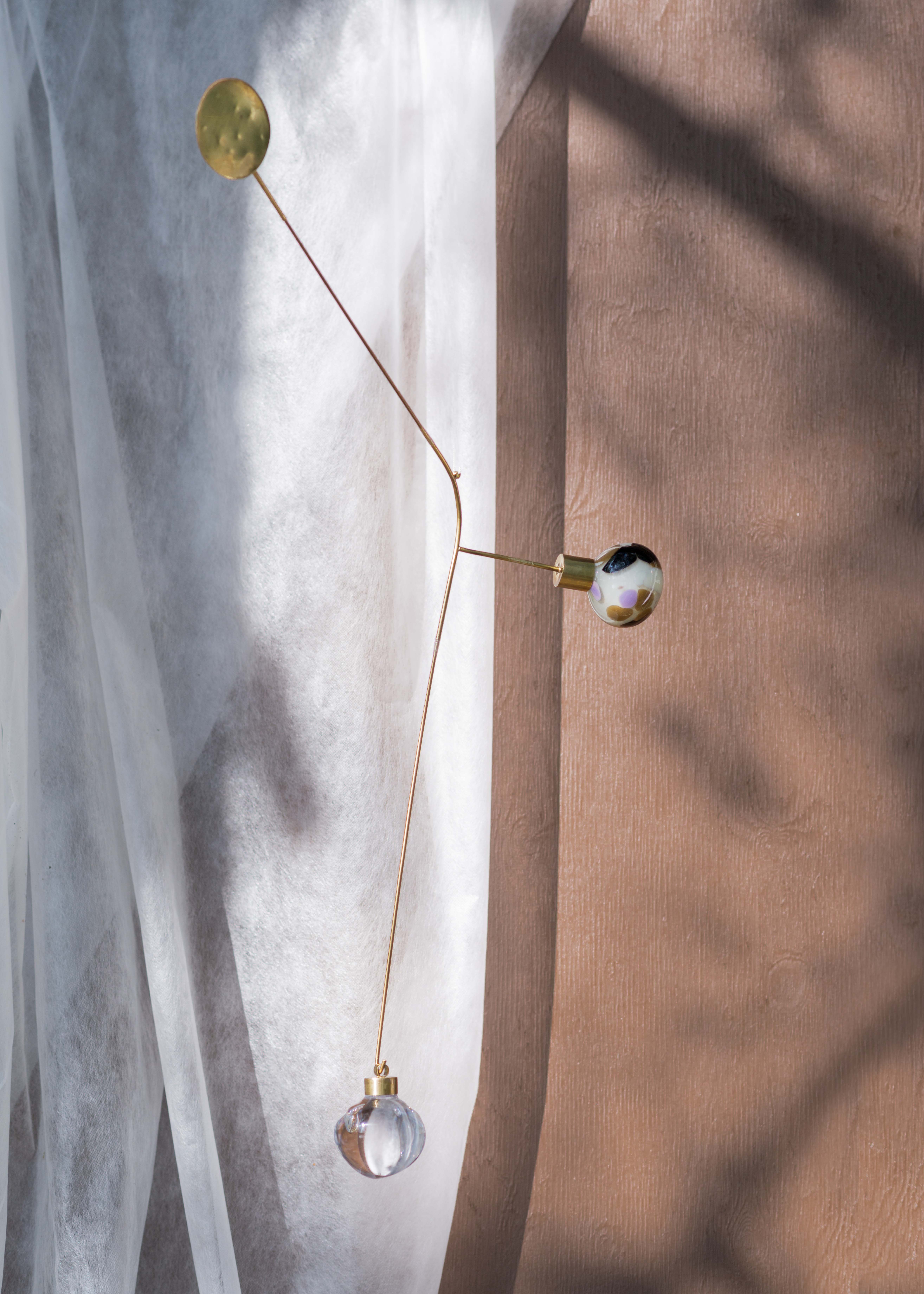 Photo Hannakaisa Pekkala & Milla Vaahtera
Glass
Mobiles &
Stabiles

Dialogue is a series of mobiles and stabiles made of free-blown glass and hand-worked brass.


Vaahtera began to work on this series in May 2017 together with glassblowers Paula Pääkkönen, Sani Lappalainen, Pauli Vähäsarja, Henni Eliala and Jonas Paajanen of Nuutajärvi. The metal parts were prepared by silversmith Kirsi Kokkonen together with Milla Vaahtera. The method was based on dialogue with the glass artists, improvisation and intuition.

The ethereal pieces are a revival of the mobile tradition that emerged in the 1930s.The heavy glass parts and the delicate brass seek a balance with each other, thus creating tensions within the works.
Text by Helsinki Design Museum Currator Suvi Saloniemi
Inquiries
Contact for made-to-order pieces.

Selection of mobiles available from UU Market.
Pregnant Milla Vaahtera finding the balance between the parts. Picture by Dora Dalila Cheffi.
Soft Sculptures
Sexuality
& body image

"I ́m EU size 46 and I don't fit the traditional beauty standards: I have cellulite, rolls, bumps and stretch marks. Fat shaming is built-in in our culture. People of all shapes and sizes learn from early age to hate themselves and all this is reinforced by media to sell us more cellulite creams, wonder bras and gym memberships."

Body shaming has deep roots in our culture. It is not just a matter of weight, but also of age, gender and body shape. Our generation is also the first to have access to unlimited free pornography. How has this shaped out perspective on body and sexuality?

Artist Milla Vaahtera's series of soft
sculpture handels these subjects. Vaahtera has worked on the topic before in photography series published in Rivo magazine. She has also worked as a plus size model for 5 years.

The sculptures present female sexuality from an active point of view an lift our body shame topics to a pedestal. They comment body shame as a genderless issue, even though artist perspective is female and abstract. In the work Vaahtera combines her designer skills and artistic expression. With art, standards of beauty can be formed and collective shame diminished.

Sculpture series


"I want to reach those who secretly
shame and hate their bodies and show
that the beauty is in the humaneness"
Artist Milla Vaahtera

2018

MATERIAL
Foam rubber and fabric

PHOTOS
Juha Arvid Helminen

STYLING
Helena Taylor & Hanna
Kutvonen

HEI
Schools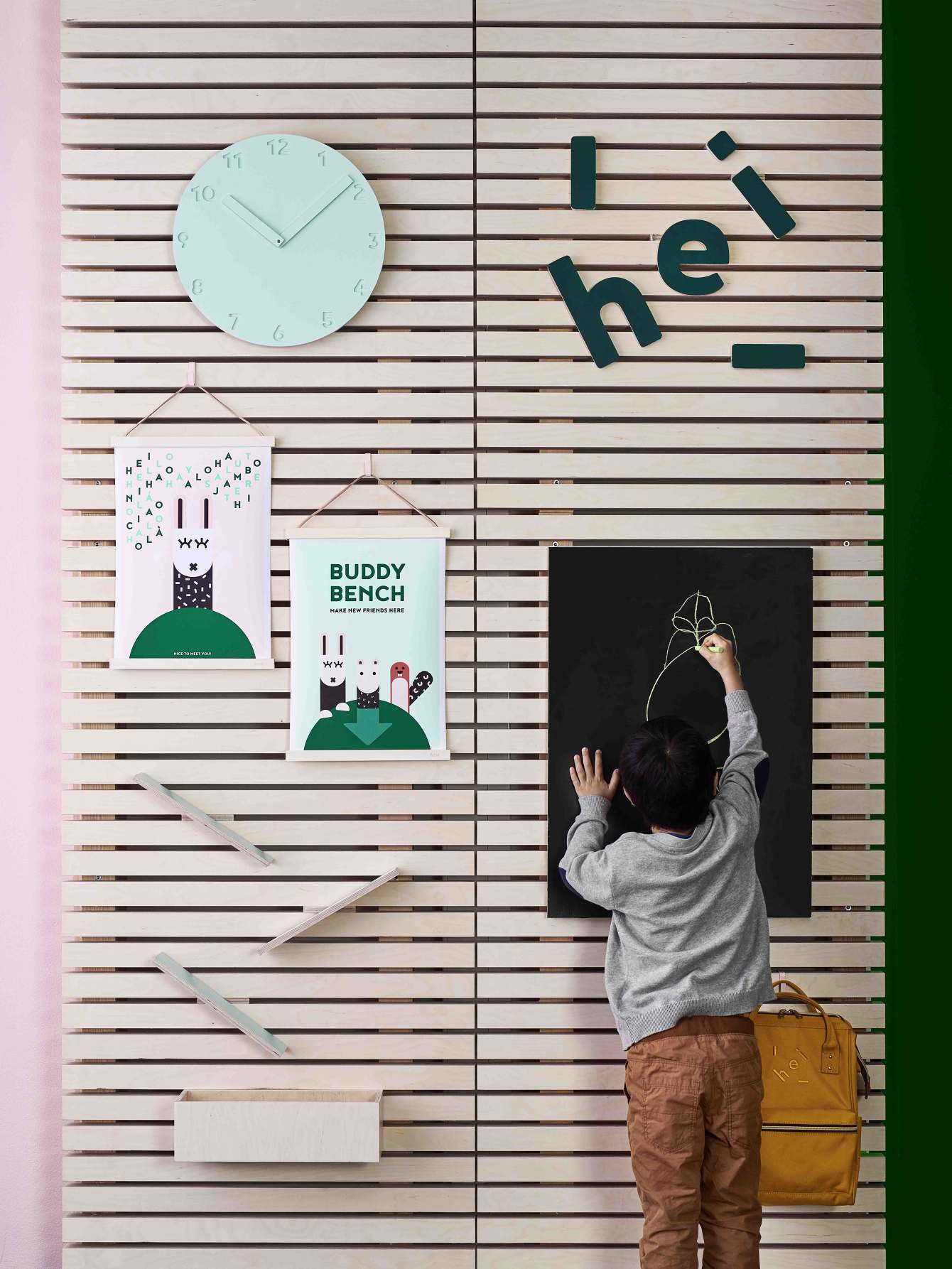 Furniture collection

Helsinki International school furniture collection is designed to free kids to explore, create and learn. Designs made in collaboration with Hei Schools design team.

2017 -

PRODUCT PHOTOS
Riikka Kantinkoski

https://www.heischools.com/

HEI Schools is an international preschool curriculum and concept that brings the excellence of Finnish early-childhood education to schools all over the world. HEI is founded in partnership with the University of Helsinki.