New exhibition in Paris: Jardin Imaginaire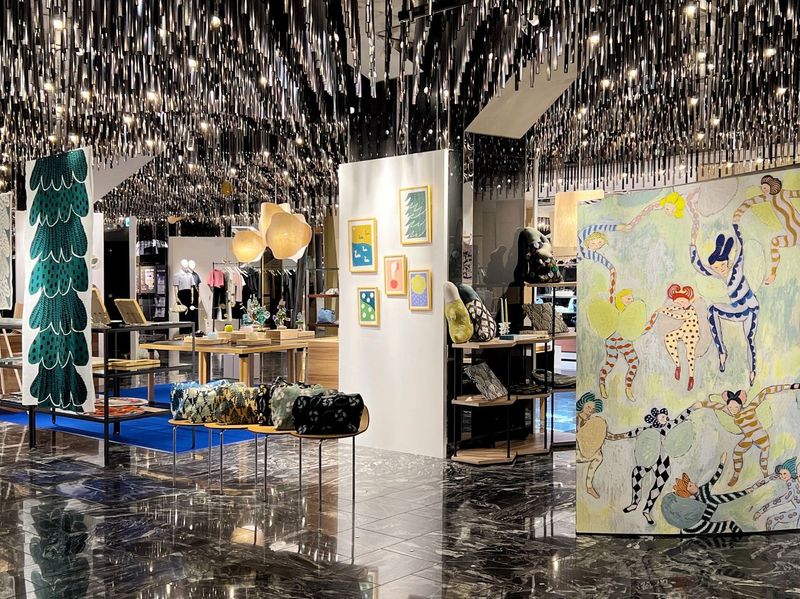 Isetan Department Store
Tokyo Japan


Date


8

–

21 Nov.2023


Visuals by Akira Minagawa
Anu Penttinen
Armi Teva
Eri Shimatsuka
Esa Vesmanen
Marianne Huotari
Milla Vaahtera

FINLAND DESiGN AND CRAFT

with

minä perhonen



Taide tuo SKiB-kampukselle iloa ja väriä
Samaan aikaan kun SKiB-kampuksen tyhjää tonttia parhaillaan paalutetaan, valmistellaan kampuksen
sisätiloja. Hyvin näkyvä rooli tulee olemaan taiteella, jota tuodaan esille niin pysyvänä kuin
vaihtuvien näyttelyiden muodossa. Kampuksen Eteläpuiston puolelle sijoittuva kaikille avoin
Kulttuuritalo tulee olemaan taiteen keskiössä.

Taitelijat Milla Vaahtera ja Laura Merz ovat toteuttaneet SKiB:lle luonnokset, joiden pohjalta he
alkavat nyt työstää varsinaisia teoksia.

JKMM Arkkitehtien suunnittelema uudisrakennus muodostaa yhtenäisen kokonaisuuden nykyisten koulurakennusten kanssa. Kampus palvelee valmistuessaan koulun noin 500 oppilasta, päiväkotilasta ja työntekijää, säätiön senioritoimintaa sekä kaikkia monikielisestä kulttuuritarjonnasta kiinnostuneita Porin ja lähialueiden asukkaita.


SKiB-kampusta on suunniteltu vuosina 2021-2022 ja se toteutetaan vuosina 2023-2025 seuraavien yhteistyökumppaneiden kanssa:


Svenska Kulturfonden i Björneborg (SKiB), on vuonna 1919 perustettu sitoutumaton ja yksityinen säätiö, joka
edistää monikielisyyttä, elinikäistä oppimista ja suvaitsevaa, tasa-arvoista kehitystä Porissa ja Satakunnassa.
Säätiö ylläpitää ruotsinkielistä yhtenäiskoulua (BSS), sekä tukee monipuolisesti paikallista kulttuuritoimintaa ja yhteisöllistä senioriasumista.







Viva Magenta - Color of the year

UU Market Exhibition continues until end of the year at the Finnish Glass Museum!

Theme of the exhibition is Pantone's color of the year, 'Viva Magenta'. Each of the seven artists have approached the theme from their own perspective and through different materials: how to capture the glow of magenta into glass, ceramics or wood?

Artists:
Laura Itkonen, Dylan Katz, Janne Rahunen, Roosa Ryhänen, Paula Pääkkönen, Penna Tornberg, Milla Vaahtera
Stockholm Creative Edition
Konst-ig, Åsögatan 124 A, Stockholm

Find showroom here>
Wednesday-Friday 11–18
Saturday 12–16

Lokal is selected to participate in the third Stockholm Creative Edition, which will take place May 24th to 27th, 2023. Stockholm Creative Edition is an independent design week where Stockholm forms a fund for a new type of design festival where we showcase the best in Nordic design, furniture, lighting, art, and crafts.


Lokal will be showcasing spring-themed gems by some of our favourite makers and visionaries; Antrei Hartikainen, Milla Vaahtera, Hanna-Kaisa Korolainen and Päivi Keski-Pomppu, all representing a new generation of who we consider to be future icons in Finnish art, craft and design.