Valon Poika Minä Perhonen Elävä Tokyo
photograph: Hua Wang

Valon poika is Finnish and it means boy of the light. When I made first mobiles in 2018 I was pregnant with my first son. I found my artistic expression at the same time as becoming a mother. I found my, method of working, wonderful hotshop team in Nuutajärvi and new connection with my own mother by working with her on the metal parts. I feel that in my case these major life developments have in common increased spiritually and focus on the moment. Some how even though I have my hands full with children, artistic work is effortless and full of joy. I have been bursting with ideas, forms and color.

2020 I got pregnant with my second son. While expecting him I had a very creative energy and this sculptural light series was made. He has turned out to be a very happy and extrovert baby - valon poika.

Minä Perhonen has most of my first mobiles and also sculptural lights. There is a joy of discovery that is only visible in the first ones. Minä Perhonen, Akira Minagawa and the people here have become very dear to me and I dream of seeing you soon again.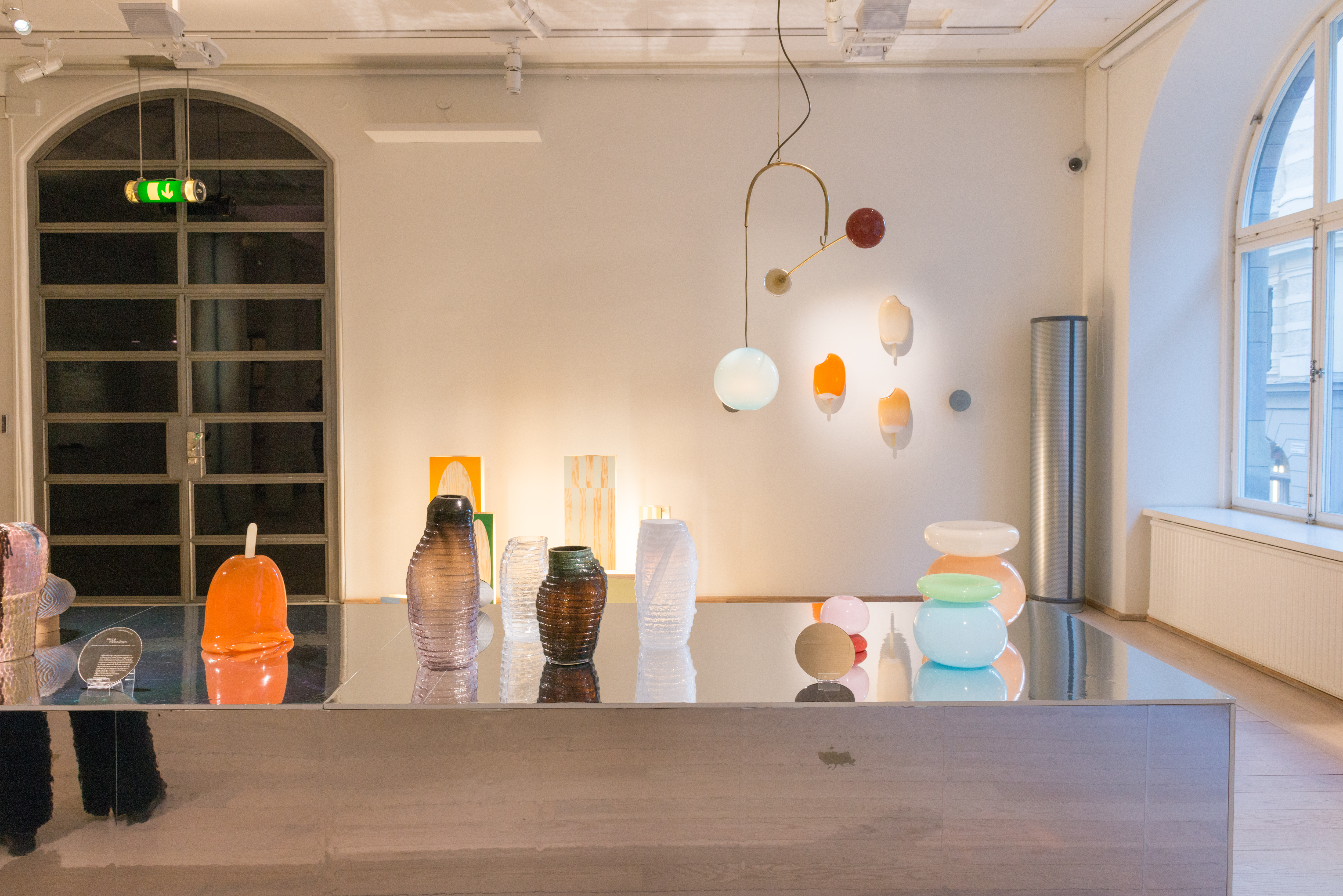 Serving Sculpture
SERVING SCULPTURE - RENEWAL OF FINNISH CRAFT & DESIGN
'Serving Sculpture - Renewal of Finnish Craft and Design' exhibition brings together works by 10 emerging Finnish designers. The exhibition takes place at the gallery of Finnish Institute in Stockholm, in February 2022, during the Stockholm Design Week.


The exhibition is organized together by UU Market, an agency and collective of new Finnish design and art, and the Finnish Cultural Institute in Stockholm. The curation is done by the Co-Founders of UU Market, artist Milla Vaahtera and designer Hannakaisa Pekkala, who have carefully selected exciting, sculptural pieces that represent the style of a new generation of Finnish designers.



Curated by Hannakaisa Pekkala & Milla Vaahtera

Graphid design by Matilda Diletta & Tino Nyman

Editorial Photos Aleksi Tikkala

Exhibition architecture and photos Hannakaisa Pekkala

Assistant Olga Autio


Thank you Taike, Svensk Kulturfondet & Finlands Institutet



Northern Alps Art Festival 2021

Lintumaa Installation
Lintumaa Installation of 34 pieces oOctober - Novenber 2021 as a part of Northern Alps Art Festival in Omachi Japan.

I interpret the forest theme by creating sculptures of glass and brass inspired by the small flora of the forest floor. Imaginary plant sculptures are large and they react to the forest around them by colour, sound and movement. Mosses, small berries and flowers grow large. With this approach, I seek to create the experience of wonder that a small child will experience in the woods. I want to recreate the same experience for an adult who has often forgotten about it.

Thank you Akira Minagawa, Fram Kitagawa, Art Front Gallery, Shimooka & Kasiu

Serving It collection out!

Stay tuned!
Spark Lokal

Spark
The skill of glassblowing has become endangered as the industrial revolution has turned into mass production. Now glassblowing is being proposed by Glass school of Nuutajärvi and Finnish Glass Museum to be added to UNESCO Intangible Cultural Heritage Lists by Finland, Germany, Czech Republic, Italy and Spain.

I have also been obsessively interested in glassblowing and perhaps even more obsessive in maintaining the wonderful tradition and generational knowledge that we have in the hotshops of Finland. Katja asked me to curate this exhibition on new Finnish glass with her and the amazing Lokal team. In recent years many new generation artists and designers have started working with glass with a new playful perspective. New Finnish glass is pushing the craft forward, it's all about unique pieces and it's very organic. As this exhibition is only a small sample of contemporary glass in Finland and this makes me confident that glassblowing will be a viable graft and the skilled glassblowers and artists will keep the fire going.

Thank you Katja Hagelstam for asking me to co-curate this exhibition. Big thanks also Lokal team Kati Ruohomäki, Hanni Koroma and Aleksi Martikainen.

A very special thank you also to wonder woman Paula Pääkkönen, she and her team have hand blown many of the pieces in this exhibition, including her own art. If you want to try working with glass, call her up 🔥


Hanna Anonen
Orcum Erdem
Anne Hirvonen
Leena Kangaskoski
Päivi Keskipomppu
Viivi Lehto
Toivo Molin
Henriikka Pahkala
Paula Pääkkönen
Aleksi Remsu

Lokal

Annankatu 11

Spark 4.8.-4.9.2021